Use This Ingredient to Make Bomb AF Guacamole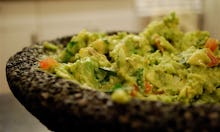 Guacamole is awesome thanks to avocados, a superfood high in essential fatty acids and low in cholesterol. 
Guacamole also happens to be super easy to make. Why shell out extra for guacamole at Chipotle when you can make an even better (and fresher tasting) batch at home?
The following recipe is adapted from Allrecipes.
The ingredients you'll need for one serving of guacamole include:
– 1 ripe Hass avocado
– 1 teaspoon minced garlic
– 1 teaspoon minced shallot
– 1 plum tomato, diced and partially drained
– 1 teaspoon of cilantro (unless you're genetically repulsed by the herb)
– 1 lime
– salt and pepper to taste
– green peas (just kidding)
1. In a medium bowl, add the minced garlic and shallot.
If you're concerned about the rawness having too much bite and bitterness, feel free to add some olive oil and microwave for a minute.
2. Dice the avocado (Plated has a good demo on how to properly do it) and add to the bowl. 
3. Here's the secret ingredient: Use a grater to zest the lime (Check out eHow Food's video for a great demo).
The zest from a lime adds a brightness and freshness due to the natural oils on the rind — just be sure to avoid grating the bitter, white pith.
4. After adding the lime zest, juice the lime into the bowl. Then add salt, pepper, tomato and cilantro until everything is mixed and well-coated.
5. Enjoy with tortilla chips or by the spoonful — not judging!
Read more: Avocado Lovers Just Got the Greatest Gift — This All-Avocado Eatery