Pakistan's Tribal Police Force Just Hired Its First-Ever Women Officers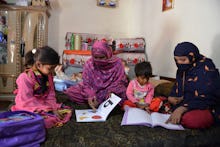 Three Christian women have been hired to join the tribal police force in Pakistan's largely rural tribal area of Khyber.
As the region is run by a conservative version of Islam — which encourages traditional roles for Muslim women — all fifteen women who applied for the job openings were Christian, minorities in the majority-Muslim country.
The province shares a porous border with Afghanistan, which many Afghan refugees cross, seeking refuge in Pakistan.
Read more: The Bizarre Thing Baffling Amazon Users About This Toy Fighter Jet
Pakistan's tribal region in the northwest area of the country is largely overrun by tribal customs and laws, and has had varying degrees of autonomy throughout the country's history. The tribal police force is made up of locals and largely rooted in the community.
"Their basic job is to carry out body searches of women passing through the [Pak-Afghan] Torkham border crossing," Khalid Khan, a Khyber senior official, told the Agence France-Presse. "But they will also help us in house to house raids," he added. Another anonymous official said he hoped it would open the door for women of all faiths to apply. 
"I do not want to be at home like other women, I want to serve my country and help my family," Riffat Abid, a 21-year-old and one of the first female officers, also told the AFP. 
Pakistan is rife with poverty and has an abysmal record when it comes to women's rights, making the news all the more remarkable. 
"This was the happiest day of my life, our family has been facing extreme poverty for generations and I want to get rid of that," Mehak Ghaffar, a 20-year-old, whose husband does not earn enough to support the family, told the AFP.
"At least my kids will not work as sweepers, we, the three women, will be the initial drops of rain for our families," she added.