MTV Movie Awards 2016 Livestream: How to Watch the Show Online for Free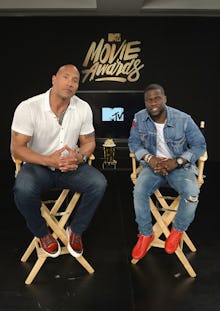 With Dwayne Johnson and comedian Kevin Hart as hosts, the 2016 MTV Movie Awards looks poised to be an entertaining venture. This, coupled with the fact that the awards show is arguably the most fan-friendly of the bunch, means Sunday night's show will be high on fun, and low on pretension.
However, in order to enjoy the ceremony, one has to be able to view it. If you can't get to a TV and check it out on MTV, things might get a little tricky. 
Read more: 2016 MTV Movie Awards: Full List of Nominees and Categories
This year, the MTV Movie Awards, which will take place Sunday night at 8 p.m. EDT, has a rather suspect livestreaming option — as in, there doesn't appear to be one. MTV's official website has been mum on the subject, and given the proximity to the event, it could go the route of the VMAs and not be streamed online for television-deprived viewers, but rather provide only behind-the-scenes footage.  
If not, though, at least the internet is having some fun at MTV's expense. A website, detailing the livestream possibilities — or lack thereof — for this year's show has popped up, and it's thoroughly entertaining in its lack of useful information. "We believe it's going to be tough selecting the winners because all the nominees are so talented," it reads. "No one can be quite sure who's going to take home an award this time. You can get to know all that from our website. Watch the 2016 MTV Movie Awards Live here on this website." 
Like the fictitious livestream page, we're unsure if it's happening, and with that, we suggest that you tune in on a TV, or check out the highlights through the Twitterverse. In the meantime, Johnson can let you know what to expect.