What Swimsuit Companies Are Getting Wrong About What Women Really Want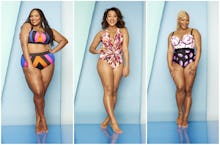 For some women, swimsuit season is the most stressful, miserable, wretched, unbearable time of year — but it really shouldn't have to be. 
That's the message behind the latest swimsuit spread for the magazine StyleWatch, on newsstands Friday, which features a cast of 10 female style bloggers with a variety of body types, problem areas and swimsuit moans and groans that people the world over can intensely relate to.
"We've all sort of been there," StyleWatch deputy editor Brittany Burke said in a phone interview. "It's a very personal thing. Even if you love your body, it's most on display in a swimsuit so it's really hard to kind of get over that fact that you're seeing more of this than you usually do. Swimsuits doesn't really leave that room for error." 
Read more: Aerie's Male Body Positive Campaign Was Cruel April Fools' "Parody"
That's one annoying aspect of finding a swimsuit that actually works for you. In an interview with Mic, three StyleWatch models — Christina Brown, Christine Cameron and Shay Tucker — revealed the multitude of problems with the entire process. 
And it all boils down to this: Swimsuit companies and retailers just aren't understanding what women really want. So, here is what they do want:
Women want to buy swimsuits in-store with little hassle. 
Say you want a swimsuit. You can either 1) shop online 2) shop from a catalog or 3) shop in store. Each of these options presents its own particular problem. 
While shopping online or by catalog isn't the easiest for anyone, for plus-size women it's more common than not. 
"A lot of brands I have to shop for are mostly going to be online, so to actually try them on is incredibly difficult," Shay Tucker, the creator of A Thick Girl Closet, said. "Especially if they're U.K. brands, you can see a size on the tag and it can be entirely different on."
You basically have no idea how something really looks or fits until it's on you. It makes the buying and trying on experience all the more difficult, costly and annoying than, say, walking in a store and hoping for the best. 
"Particularly for stuff that you ordered online, I automatically don't think it'll work," Christina Brown, the founder of LoveBrownSugar said.
In terms in-store shopping, that's not such a great option either considering, firstly, bad lighting, but also a lack of options in terms of fit.  
Women want swimsuits that fit and support their bodies — shocker! 
A no brainer, right? Well, for swimsuit companies, there's still improving to be done. The struggle to find a decent swimsuit may really boil down to swimsuit companies and retailers not really understanding how women's bodies operate in the first place.
"A lot of times, you just want a quick $20 bikini, and they get ruined pretty easily, so I feel like brands just sort of assume every body type is generic," Christine Cameron, the mind behind My Style Pill, said. "They're not paying attention to the different body types." 
It's as if retailers think every woman is shaped the same. If a woman is wearing a bikini, then she must have small breasts. In one-pieces, they hope a woman is straight and narrow. In two-pieces, they don't necessarily think about the fact that breasts have weight. Of course, that's not the case. 
"It goes back to every body's not the same," Tucker said. "If you're hip heavy and butt heavy then you may want something more flattering than if you're not." 
It's not just about women not finding a suit that flatters them, it's often about how the system seems rigged against them. Example: When suits are sold in one size, meaning that when you buy a bikini, both the tops and bottoms are either small, medium or large. For women who may have a larger bust, and smaller hips — or the other way around, really — this is a particularly annoying concept. 
"I have always struggled with finding tops that work with the bottoms," Cameron said. "I could go for a one-piece but generally I just want something else. You go into a store and don't want to spend a ton of money, it's that the tops are expensive If you are a small bottom, the top is also small and then you have to buy two suits basically." That means spending even more money. 
Brown thinks swimsuit companies have a hard time comprehending how diverse women can be. "I don't like the brands that won't allow you to pick and choose the different sizes for tops and bottoms," Brown said. "Brands aren't understanding that." 
Women want stylish options a plenty — because we deserve it.
Not only do women want a suit they can buy in-store, in different sizes and that fits, but they want several different styles as well, regardless of what their body type may be.
For Tucker, who's plus sized, that's been an issue. 
"They do only matronly so all of them have skirts and they're the same," Tucker said. "Or, they go all the way to the other side with cut outs and everything's showing there's never a brand that can bring you the correct support and also be trendy." 
For each body type, there's only a few styles to pick from and for Cameron, who has a larger bust, manufacturers assume that she really wants to show it off with thin straps, which aren't all that supportive.
"If I went to go get a tie [back bikini top], I had absolutely no support," Cameron said. "For me, in order to get into something that fit me in the top, it didn't look attractive." 
Again, it's options that are needed. Since swimsuits are such a deeply personal and intimate garment, it undoubtedly feels horrible and uncomfortable when you consistently try them on and they don't work. 
With this public call to action, maybe brands and retailers will finally understand that women are not all the same, and may want entirely different things from their swimsuits as well. But, more often than not, what they're asking for isn't too far out of reach. They just want one swimsuit that they feel great in. 
"We all felt really confident and that came through in the shoot," Brown said. "And I hope that translates from the page to the readers and when they see it they think that we're aspirational but we're also relatable. We are all of them."