Bill Clinton "Almost" Apologizes for Response to Protesters in Philadelphia Rally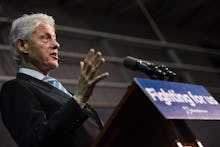 On Friday, former President Bill Clinton spoke about his pointed exchange with protesters who were thought to be affiliated with Black Lives Matter (they weren't) at a Hillary Clinton rally on Thursday — but he didn't quite apologize. "So I did something yesterday in Philadelphia. I almost want to apologize for it, but I want to use it as an example of the danger threatening our country," Clinton told a crowd at Penn State Erie, The Behrend College, reported NBC News.
Read more: Hillary Clinton Responded to the Black Lives Matter Activist Who Demanded an Apology
A day earlier, protesters interrupted Clinton's speech in Philadelphia with chants criticizing the Clintons' joint support for a 1994 crime law and a 1996 welfare reform law that the protesters implied targeted people of color. One held a sign stating, "Clinton crime bill destroyed our communities."
"I don't know how you would characterize the gang leaders who got 13-year-old kids hopped up on crack and sent 'em out onto the street to murder other African-American children," Clinton said to the protesters on Thursday, according to ABC News. "You are defending the people who killed the lives you say matter. Tell the truth. You are defending the people who caused young people to go out and take guns," Clinton said, according to the Washington Post.
Clinton seems to have some ambivalence about his response to the protestors at Thursday's event, as evidenced by his "almost" apology on Friday. "I rather vigorously defended my wife, as I am wont to do, and I realized, finally, I was talking past [the protester] the way she was talking past me. We gotta stop that in this country. We gotta listen to each other again," he told the crowd, according to NBC News.
But many on social media have expressed frustration with his latest response.
April 8, 2016 6:40 p.m. Eastern: This story has been updated.
Correction: April 8, 2016