Bruce Springsteen Is Canceling His Show in North Carolina to Protest Anti-LGBT Legislation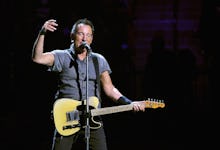 Friday afternoon Bruce Springsteen unofficially became the most woke name in classic rock.
The legendary songwriter behind hits such as "Born in the U.S.A." and "Dancing in the Dark" posted a short statement on his website to announce he's canceling his upcoming show in Greensboro, North Carolina, as a way to show his support for those fighting the state's recently enacted Public Facilities Privacy and Security Act. 
Publications and activists have described this law, which forces transgender people to use the bathroom of the sex they were assigned at birth, as one of the most "extreme" and "sweeping" anti-LGBT bills in the country. Springsteen is now lending his voice to this powerful chorus by choosing not to use it onstage in Greensboro.
"To my mind, it's an attempt by people who cannot stand the progress our country has made in recognizing the human rights of all of our citizens to overturn that progress," Springsteen wrote in his statement. "Right now, there are many groups, businesses and individuals in North Carolina working to oppose and overcome these negative developments. Taking all of this into account, I feel that this is a time for me and the band to show solidarity for those freedom fighters."
With these words, Springsteen joins a number of celebrities, such as Broadway composer Stephen Schwartz and former NBA All-Star Charles Barkley, and corporations from PayPal to PepsiCo, which have all put pressure on North Carolina's government with similar declarations.
"Some things are more important than a rock show, and this fight against prejudice and bigotry, which is happening as I write, is one of them," Springsteen wrote. "It is the strongest means I have for raising my voice in opposition to those who continue to push us backwards instead of forwards."
Read the full statement, screen-capped by ABC, below.