Scarlett Johansson Has Dated Unavailable Men, Proving There's No Hope For the Rest Of Us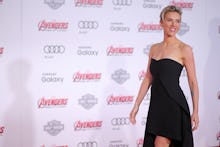 Objectively hot actress Scarlett Johansson — the only woman to ever be named Esquire's "Sexiest Woman Alive" twice — has admitted to having once fallen under the spell of an emotionally unavailable man.
In a new interview with Cosmopolitan, the 31-year-old said this:
Long, long ago, I had someone in my life who was forever unavailable...but, like, so attractively unavailable. You have to get to your breaking point... rock bottom is the moment when you're like, "I've lost myself. Why am I standing outside this bar at 1:30 in the morning texting while my friends are inside? Or taking a taxi to see him at some ungodly hour? This isn't me." That is the moment you've gotta cut it off. Otherwise, it will keep coming back, suck your blood.
Honestly: This little anecdote is just rude. It means that 1) Scarlett Johansson is a human and, like the rest of us, prone to falling for men she can't have, and 2) there are men that Scarlett Johansson can't have. So the rest of us should maybe just give up already.
h/t Cosmopolitan