It's 2016 and Latino Representation on TV Is Finally Starting to Reflect Reality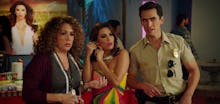 Latinos make up 17% of the U.S. population. They account for 32% of frequent moviegoers. But as Flavorwire put it bluntly last year, Hollywood made the same number of films about Latinos as they did about monkeys in 2015.
Hollywood's diversity problem is nothing new. (See #OscarsSoWhite: The Sequel.) According to Jessica Gonzalez, executive vice president of the National Hispanic Media Coalition, representation of Latinos in particular is lagging.
"We're way behind," Gonzalez said in a phone interview. "We're totally underrepresented, and it's a missed opportunity."
But there are encouraging signs that television has begun to seize that opportunity. The CW's Jane the Virgin, a show featuring a mostly Latino cast, won a Golden Globe and has been renewed for a third season. NBC's new 2016 primetime lineup includes three shows with Latinas leading as both actresses and producers: Jennifer Lopez's Shades of Blue, America Ferrera's Superstore and Eva Longoria's Telenovela.
Diversity and the Bottom Line. When you consider Hollywood's perennial focus on the bottom line, the persistent lack of diversity in entertainment makes little financial sense. Films and shows with diverse content were more popular in 2013 and 2014 for the second year in a row, according to UCLA Ralph J. Bunche Center for African American Studies's 2016 Hollywood Diversity Report. Scripted shows featuring casts that were at least 30% diverse had higher ratings among viewers ages 18-49 than competitor shows. And yet the industry continues to produce shows and films that don't reflect this data.
"Films are expensive to produce, and they like to go with people who are a sure shot," Gonzalez said. "They just really don't know who that is. They think they do, but they don't."
While only a couple hundred films are made in a given year, there were more than 1,100 shows alone that the Bunche Center evaluated for their diversity report. Television networks — both traditional and nontraditional — are taking small steps forward to increase Latino diversity in their shows.
The path to production and primetime for shows like Jane the Virgin and Superstore was paved by hits like Desperate Housewives (2004-2012), Ugly Betty (2006-2010) and Modern Family (2009-present) that featured Latinas in leading roles. These shows painted nuanced portrayals of real Latinas, not offensive or overwrought stereotypes. While Modern Family's Gloria does embody the stereotypically sexy and sassy Latina, her character is multilayered, compassionate and strong in her own way, making her relatable to audiences of all backgrounds.
"They are telling real stories," Gonzalez said. "They are telling stories about immigration, issues that affect our families, and they are doing it in a way that can reach non-Latinos, that's building empathy and understanding instead of tearing us all apart and portraying us as the others."
While there has been more Latino representation on screen as a result of some of these newer shows, Hispanic Organization of Latin Actors Executive Director A.B. Lugo pointed out that this kind of representation normally comes in waves. While 2016 might be an upswing, there's no guarantee it will last.
"A lot of times it goes through cycles," Lugo said in a phone interview. "We will get a bunch of shows sometimes, and if they fail, then we get a drought, and then they think, 'OK, let's bring Latinos back again.' And then we'll get some shows."
While Ugly Betty's America Ferrera and Jane the Virgin's Gina Rodriguez have won Golden Globes for best actress in a comedy, the awards came eight years apart. As so many have pointed out when it comes to increasing diversity on screen, Lugo and other leaders at Latino advocacy organizations said that change needs to happen at all levels of the industry.
"Not only do we have a lack of diversity on the screen, we have a lack of diversity behind the scenes directing, writing, showrunning, creating," Lugo said. "That's as important, if not more so, because we need to tell our stories."
Diversity in the Writers' Room. Felix Sanchez, chairman and co-founder of the National Hispanic Foundation for the Arts, works to support up-and-coming student minority screenwriters. He believes that having writers who can tell the authentic stories of Latinos on screen will contribute to change in the industry.
"You need to have Latino writers in the room," Sanchez said. "For 20 years we've been working on this issue when most people would not open the door. Now there's an understanding that there is an urgency here. We are meeting the supply need to their demands for more diversity programming."
The National Hispanic Media Coalition hosts a writer's program for screenwriters in Hollywood to specifically target this issue. The program is in its fourteenth year, and its writers have gone on to work for Jane the Virgin, NCIS (CBS), The Catch (ABC), Telenovela and more. The program has created a pipeline with the potential to shift what we see on screen — and it's already making significant inroads, Gonzalez said, as graduates from the program come back to find new writers for their shows.
"Diversity of writers is particularly important because they tell the story," Gonzalez said. "We need more diversity in the boardroom, more diversity with greenlighters."
"With a platform comes a certain responsibility." In a period where more roles for Latinos are becoming available, actors like Broad City's Arturo Castro believe it's important to be selective about the work you do, and become a role model for other Latinos who are looking for honest, real portrayals of themselves on screen.
"We have a platform, and with a platform comes a certain responsibility," Castro said in a phone interview. "I know that what we're still making at the end of the day is entertainment, but entertainment is important. People's perception of the world around them comes from what they see on TV and in films. As artists, we have to be careful."
Castro has been acting professionally since 2009. He said that when he first started acting, he couldn't get roles where he wasn't in a field or in a kitchen as a busboy. In 2012, he started to notice things change. His character on Broad City, Jaime, was one of his first more positive experiences, where they just wanted him to play "a person who happened to be from somewhere else," he said.
"It's changing. It's slow, but it's coming," he said. "The more media reflects our everyday life, the more we'll start making sense of the new American facade."
"The more media reflects our everyday life, the more we'll start making sense of the new American facade."
Multiplatform Diversity. The changing way we watch TV has also opened up new ways for Latinos to get their work out there. Non-traditional streaming services have invested in more diverse shows, and they often cater to more niche audiences that a national broadcast or cable network might not be interested in targeting. The internet gives Latinos an open platform to distribute their work in the hopes that it will be seen.
"Those online streaming services, those networks tend to go more diverse," Lugo said. "They take more chances. As a result, it raises the game for cable shows and network shows because they see [the shows] are doing well."
Other television networks like Univision, as well as its joint venture with ABC News, Fusion, are working to create more opportunities for Latinos in television and media. Univision's longtime news anchor Jorge Ramos has become a pivotal voice in election coverage in recent cycles as both parties actively court Latino voters.
While 2016 has more programming featuring Latinos on television, little progress has been made in film. A handful of television shows featuring Latinos only makes a small dent in attempting to reflect the makeup of the U.S. population, when one in six people identify as Latino, and minorities are set to become the majority by 2060, according to U.S. News and World Report.
For those working to make what we see on TV a true portrait of who the people of the United States are, there's more work to be done.
"It's a multipronged approach," Lugo said. "We have to go after all these things at the same time. Hopefully, we create a perfect storm that will make TV a reflection of our country."