Wisconsin Court Tosses Out Gov. Scott Walker's "Right-to-Work" Law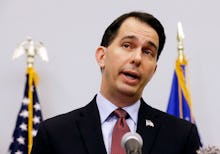 On Friday, a state judge threw out Wisconsin Gov. Scott Walker's right-to-work law, reversing a major loss for labor activists and dealing a heavy blow to the Republican's administration.
Judge C. William Foust ruled in favor of union activists, who claimed provisions in the law preventing unions from collecting dues from non-members violated the state constitution's protections against the "taking" of private property, Politico reported.
Plaintiffs alleged the law undercut unions by allowing non-union employees to enjoy the benefits of collective bargaining without paying in. Supporters of the law say it simply gives employees the right to work without being compelled to pay union dues, though the laws have been cast as an attempt to undermine the political power of U.S. labor.
In his decision, Foust said unions must bargain on behalf of non-members because they "cannot decline exclusive representative status unless it declines to be voted in at a workplace to begin with," according to Think Progress. He added that the law's impact "over time is threatening to the unions' very economic viability."
Walker's lawyers told Politico that appeals will overturn Foust's decision, as the state Supreme Court did when it overturned a lower court's decision to throw out Act 10, which restricted public employees' collective bargaining rights.
"Once again, a liberal Dane County judge is trying to legislate from the bench," Republican Assembly Speaker Robin Vos told the Associated Press. "No one should be forced to join a union or pay union dues as a condition of employment."
The governor touted his record taking on Wisconsin unions during an ill-fated presidential bid in 2015. Walker became the second casualty of the brutal Republican slugging match, suspending his bid in September amid some polls showing him tied for 12th place.
As Politico noted, right-to-work laws in other states have withstood multiple court challenges, meaning Foust's decision may not be the end of the line.