US Navy, Coast Guard Rescue Sailors Who Wrote "Help" on Beach of Desert Island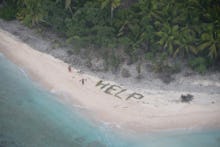 It looked like an episode of Gilligan's Island, but it was a real-life plea for help.
On Thursday, the United States Navy and Coast Guard rescued three shipwrecked mariners from a desert island after they wrote the word "help" on the beach using palm fronds, the Washington Post reported.
The men's 19-foot skiff overturned on Monday night, leaving them to swim over two miles to the shores of "the tiny Pacific Island of Fanadik, several hundred miles north of Papua New Guinea," according to the Post. They remained there until Thursday morning, when a Navy plane noticed the letters on the beach.
"The men were located by a Navy P-8A aircrew Thursday in a search designed and coordinated by Coast Guard search and rescue controllers at Sector Guam," the United States Coast Guard Hawaii Pacific wrote on Facebook. "Once sighted, the information was relayed back to the family in Chuuk, who launched another vessel to the island, and [the] mariners were recovered, arriving safely to Pulap."
It's not the first unusual rescue at sea the U.S. Navy has been involved in this year: In March, Navy officials located a dog that had gone missing near San Clemente Island in the Pacific Ocean over a month earlier. The dog apparently survived by eating mice.