This Fake Mississippi Tourism Ad Perfectly Roasts the State's New Anti-Gay Law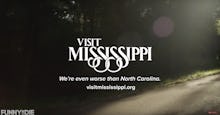 There's nothing funny about the HB1523 law that Mississippi recently passed or its impact on the state's LGBTQ residents, but the mock ad sketch FunnyOrDie.com just released skewering it will have you in stitches.
HB1523 allows religious organizations and private companies to legally deny services like adoption, foster care and housing to people based on their sexual orientation. In the comedy site's satirical tourism ad, a voiceover announces that the state's regressive attitude toward gay individuals is actually a point of state pride. 
"We're Mississippi. We're proud of our Southern values, Magnolia trees and hot days. Now thanks to Governor Bryant, we have an oppressive law to match our oppressive heat," the ad announces.
The minute-long ad proceeds to list the fun homophobic activities families can enjoy together during a trip to The Magnolia State.
"Explore nature with your nuclear family while explaining to your kids why being different is bad and why sex is scary," the ad says. "Explore our vast collection of books before we burn them all and fish in the quiet solitude of knowing you've been left behind by history."
The ad concludes with a grim reminder that the state is not alone in its discrimination: "Visit Mississippi — we're even worse than North Carolina!"