Netflix Prices Are Going Up Starting May 1st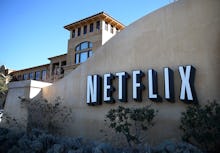 Approximately 17 million people will see their monthly Netflix subscription price increase from $7.99 to $9.99 starting next month, Business Insider reported.
On May 1, subscribers with grandfathered in subscription fees of $7.99 a month from May 2014 prices will get their first price increase in two years, thanks to the end of a grace period. UBS analysts believe the move will affect some 17 million customers, 3-4% of whom are expected to cancel due to the two-dollar price increase — a JPMorgan survey found 80% of customers are likely unaware of the change, according to Business Insider.
Read more: Let's Talk About the Hotness Double Standard on Netflix's 'Love,' Shall We?
"Impacted members will be clearly notified by email and within the service so that they have time to decide which plan/price point works best for them," Netflix told NBC in a statement.
While the price increase may take some users by surprise, ditching expensive cable TV services in favor of online streaming options tends to save users significant amounts of money.
An analysis on Boy Genius Report found that while a basic Netflix / Hulu combo ran around $20 a month, and HBO Go another $14.99, a serviceable basic cable combo on Comcast could run up to $80-85 monthly after the end of any trial period promotions.
As NBC noted, Netflix's plan is still cheaper than competitors Hulu, HBO and Showtime, which offer streaming services costing between $10.99 and 14.99 a month each. While Netflix's library has shrunk by a significant margin in the past two and a half years, it has also expanded its investment in original content, adding 111 Netflix-produced shows and films from 2011 to 2016.
h/t Business Insider