A Starbucks Barista Wrote a Savage Message on a Customer's Cup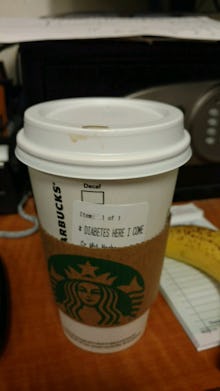 A Starbucks customer in St. Augustine, Florida got something he didn't ask for with his grande white chocolate mocha: a double shot of shade.
The man told a local CBS News affiliate that upon picking up his order, he noticed that his cup was labeled "DIABETES HERE I COME." 
The customer told CBS that the message struck a nerve for a particularly personal reason: Two of his sisters have Type 1 diabetes. 
"That first word just automatically brought the picture of both sisters in my head, and I was taken aback," he said. "Just the struggles they went through and all the doctor appointments they had." 
When questioned about the incident, Starbucks corporate headquarters said that they were "disappointed" to hear of the encounter.
"We strive to provide an inclusive and positive experience for our customers, and we're disappointed to learn of this incident. We are working directly with the customer to apologize for his experience, and with our partners (employees) to ensure this does not happen again."
As for the offended customer, he didn't take the initial offense lying down. Before leaving the store, he took the time to write the offending barista a note on his coffee cup.
"2 of my sisters are diabetic, so... Not funny," he wrote.
"Seeing and knowing the struggle my sisters went through by third, fourth grade, it definitely struck a nerve, and I didn't just want to let it go," the customer said.
The man told CBS that he wasn't looking for an apology, but wanted to make sure that no future customers experienced the same treatment.