Barry Diller's 'Hollywood on the Hudson' Will Move Forward After Lawsuit Dismissed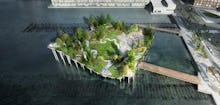 Billionaire Barry Diller will get his $130 million, 2.4-acre "Hollywood on the Hudson" on New York's Hudson River, courtesy of the courts.
Manhattan Supreme Court Justice Joan Lobis said the Pier 55 project could proceed on Thursday, dismissing a lawsuit brought by the City Club to have the state perform another environmental review and wait for the approval of the state legislature, the New York Times reported.
Diller's plans to build a 186-foot pier at 13th St., a whimsically designed structure with a large performance space, were delayed when City Club filed a lawsuit in July 2015, arguing that the park's approval was the end of a "secretive process designed to reach a preordained outcome," rather than public debate. Diller himself has committed $113 million to the project.
According to Gothamist, the plaintiffs were concerned Diller's park "violated the public trust doctrine by alienating public parkland to Pier55, Inc., a private entity" — essentially creating a park for the benefit of wealthier patrons who could afford higher event fees or attend members-only events. They also said the park had not undergone adequate environmental analysis, and that its construction, as well as the presence of large moorings including a boat, would damage the local ecology and cast a large area of water into shadow. 
The plan has now passed one environmental review by the Department of Environmental Conservation, but is still under review by the Army Corps of Engineers, according to DNA Info.
As for the allegations Hollywood on the Hudson will be used to unfairly reward the wealthy, Lobis said Diller's facility would be well within accepted used for public land.
"It would appear that a significant purpose of maintaining event spaces in the Park is to generate funds for the ongoing upkeep of the Park, which is surely a park purpose," Lobis wrote in her decision, according to DNA Info. She also concurred with former Parks Commissioner Adrian Benepe's statement that many of New York City's parks charge event admissions "ranging from as little as $3 to hundreds of dollars in concerts in stadia or on Randalls Island."