Joe Biden: "I Would Like to See a Woman Elected"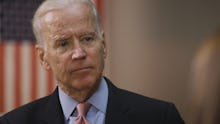 Vice President Joe Biden waded into the contentious back-and-forth between Hillary Clinton and Bernie Sanders over Clinton's qualifications to serve as president, telling Mic in an exclusive interview that both candidates are "totally qualified" — adding that he'd "like to see a woman elected."
The remarks came during an interview with Mic correspondent Antonia Hylton centered on Biden's crusade against sexual assault, set to be released on Wednesday.
Asked whether Sanders' charge that Clinton's super PAC support and her votes for free trade agreements and the Iraq War rendered her unqualified represented another manifestation of sexism, Biden responded with an emphatic "no."
Read more: The White House Just Took Hillary Clinton's Side in Her Latest Fight with Bernie Sanders
Sanders' remarks were "totally different" from the often-incendiary rhetoric espoused by Republican presidential candidate Donald Trump, Biden said.
Watch Biden's comments here:
The voices heard in the background of the video are members of Biden's staff, who had made several attempts off-camera to end the interview after it ran over its allotted time.
The way the two-time presidential candidate sees it, the Democrats' war of words is par for the course in national campaigns.
"Look, they're both totally qualified to be president. They both get in a fight. Campaigns do this. It's like saying, you know, 'She's dead wrong' or her saying, 'He's dead wrong' on an issue," the vice president said.
Meanwhile, Biden noted, Sanders did not say Clinton is "not qualified because she's a woman."
Biden — who contemplated entering the 2016 fray himself, before opting against a bid in October — rejected the notion that Clinton is held to a higher standard because she's a woman.
"No, I don't think she's held to a higher standard. This country's ready for a woman. There's no problem. We're going to be able to elect a woman in this country," Biden said.
Asked whether he wanted to see a woman elected, Biden responded, "I would like to see a woman elected."
The vice president's staff then attempted to cut off discussion of the 2016 race, but Biden insisted he had "no problem" with discussing it — while making clear he would not go down "that rabbit [hole]" of offering a formal endorsement.
"The president and I are not going endorse because we both, when we ran said, 'Let the party decide.' But gosh almighty, they're both qualified," he said. "Hillary's overwhelmingly qualified to be president."
A complex history: Biden's remarks — simultaneously defending both Clinton and Sanders, delivering views that could conceivably irk either camp — are reflective of the larger role he's played in campaign politics since deciding against a run of his own.
Though Biden served alongside the former secretary of state in both the Senate and the Obama administration, he's leveled not-so-thinly-veiled criticism of his erstwhile colleague, including in his White House Rose Garden speech announcing his no-go decision.
In the speech, Biden railed against "the divisive partisan politics that is ripping this country apart," declaring, "I don't think we should look at Republicans as our enemies. They are our opposition. They're not our enemies." Those pointed remarks came just days after Clinton, in a Democratic debate, identified Republicans as among the enemies she was proudest of making.
Biden has also questioned Clinton's credentials as a warrior against income inequality, a signature Sanders issue.
In a January interview with CNN, Biden said it was "relatively new for Hillary to talk about" the issue, while "Bernie is speaking to a yearning that is deep and real. And he has credibility on it." Biden later walked those comments back a bit, saying he meant Clinton was a newcomer to the inequality debate because she'd been focused on global affairs as secretary of state from 2009 to 2013.
April 11, 2016, 3:43 p.m.: This post has been updated.