'Views From the 6' Is Set for Release April 29 — What We Know About Drake's Next Album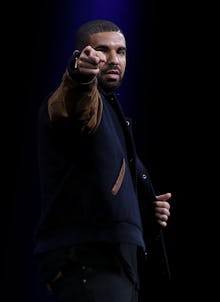 The wait is over — almost.  For the most loyal Drake fans, who have been following the Canadian hitmaker's every move on Instagram to catch clues on when his forthcoming Views From The 6 album might be dropping, a surprise came in the form of the 6 God himself on episode 19 of OVO Sound Radio Saturday night. 
According to Drake, famed producer Noah "40" Shebib and he are putting the final touches on his highly anticipated LP, a "life soundtrack," which is set for release April 29. 
"I'm happy to let you know that Views is dropping April 29, and it's something that I've been working really, really hard on. You know, myself and 40, just trying to craft a life soundtrack, you know, a soundtrack for our city," Drake revealed live from the S.O.T.A. Studios in Toronto with Oliver El-Khatib. "It's not a short ting, there's a lot of music on there, so as long as you can bare with me for the next couple of weeks, I promise you that you'll have your full share of Drake music for the summer, and for a year, and for, forever."
Complex reported Views From the 6 will be released exclusively on Apple Music before, and if, the album finds its way to the likes of Spotify and Tidal. Drake then uploaded a promotional video for the album on Twitter, chronicling his life and endeavors as an actor on Degrassi to a Grammy-award winning rapper (who apparently takes shots out of his golden statues).
"Bad times, good times. Young money, new money," Drake is heard over a series of flashing moments from recent years. "Young me, old me. Me as Manny, me as Jimmy, me as Drake." 
Though Drake is only now teasing fans about what secrets lie within the 6, those with their finger on the pulse have already been given some hints. First, a rumored 13-song track list appeared on Reddit, quickly making its way around the online hip-hop community, as Mic previously reported. Soon after, a supporting video showing some of those song names was posted to Twitter by Rap Genius. 
Below is the supposed track list, with features including the Weeknd, Beyoncé and Drake's young prodigy, PartyNextDoor:
1. "Warm" 
2. "No Less" featuring Majid Jordan
3. "Life"
4. "Faded Nights" featuring PartyNextDoor
5. "Don't Cry"
6. "Late Night Call" featuring Bryson Tiller
7. "Fake Shit" featuring Trey Songz
8. "Lost In Life"
9. "Choices" featuring the Weeknd
10. "Emotional"
11. "Can I" featuring Beyoncé
12. "Motions" featuring Roy Wood$
13. "Tell Me" featuring Jhené Aiko
According to Drake, he and his team have been putting in work on the album over the past few days. If that's the case, take this track list with a grain of salt — it might have just been the first, rough draft to a career-defining album.