Bernie Sanders, Ted Cruz Score Wins in Wyoming and Colorado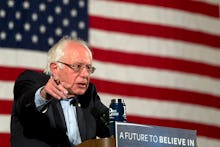 Two presidential candidates that could not be more different, Republican Texas Sen. Ted Cruz and independent Vermont Sen. Bernie Sanders, coasted to large victories in primary contests held in Colorado and Wyoming on Saturday.
Cruz won Colorado in a total shutout, earning all 13 of the state's at-large delegates and all 21 awarded at congressional district conventions throughout the week, according to the Hill. Of those 34 delegates, approximately 30 are bound to Cruz, meaning they have to vote for him in the first round if there is a contested convention.
Cruz went into the state with huge advantages, not the least being this year's decision not to hold a primary or caucus in Colorado but instead "allocate delegates through a convoluted system that began with precinct meetings," according to the Wall Street Journal. The Donald Trump campaign, representing a political newcomer who often struggles with the challenges of organizing, ran into major errors such as handing out incorrect information at convention sites.
In Colorado, where recreational marijuana use is legal on the state level, Cruz pledged not to send authorities to enforce the federal prohibition on weed if he is elected in an interview with the Denver Post.
On the Democratic side, self-declared democratic socialist Bernie Sanders dominated Wyoming by an 11-point margin, though only took home half of the state's pledged 14 delegates, reported the New York Times. CNN noted the victory was Sanders' eighth out of the last nine states to hold contests, though competitor Hillary Clinton still holds the lead with 250 more pledged delegates. With just 14 delegates, Wyoming is the least consequential state in the Democratic race.
While Sanders' winning streak continues, it remains unlikely he will sufficiently outpace Clinton in the remaining contests so as to clinch the nomination outright. Instead, he's hoping to merely capture enough of the Democratic base to take a swing at winning the nomination at the convention — though that will be a tough sell given his straggling position in the popular vote.
As USA Today noted, "Sanders has captured 46% of Democrats' pledged delegates but only 42% of votes," meaning he will have a difficult time upsetting Clinton's 469 to 31 lead in superdelegates.