Dog Found on Highway With Mouth Duct-Taped Shut Prompts Police Investigation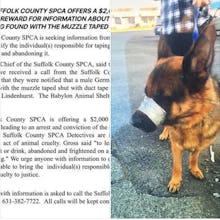 Police are searching for the owner of a German shepherd who was found abandoned on the side of a highway in Long Island, New York with his mouth duct-taped shut.
Roy Gross, chief of the Suffolk County Society for the Prevention of Cruelty to Animals, told NBC News that the 2- or 3-year old dog appeared to be healthy and socializing normally with humans.
Gross also said that his colleagues believed that the dog had not been alone for long when he was found Saturday on Montauk Highway in Lindenhurst, and called the sight of his taped-shut muzzle "heartbreaking."
"He's the kind of dog who if he ran away on his own, he would walk right up to you," Gross said, adding, "I can say whoever did this is a truly heartless individual."
The dog is currently being cared for by the Babylon Animal Shelter of West Babylon, New York.
A $2,000 reward is being offered by the Suffolk County SPCA for any information on the dog's owner that might help authorities make an arrest for what the organization referred to on Facebook as a "heinous act of animal cruelty."
Gross said that finding the owner was tantamount to protecting the public's safety in general.
"People who hurt animals like this hurt people," he said.
The Suffolk SPCA is asking anyone with information to call 631-382-7722.