Naomi Campbell Doesn't Have Time for Your #SquadGoals, Taylor Swift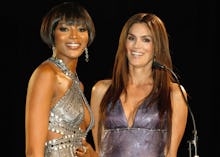 Sometimes Naomi Campbell does marvelously mean things, like hurling cell phones at innocent heads. Sometimes she is more subtle in what she throws — shade, for example. In a recent interview with People, the supermodel got real about her superclique of the '90s with a pointed remark that pokes a big hole in modern squad worship.
Read more: Naomi Campbell Experiences Acute Word Vomit When Coming to Ashley Graham's Defense
"We were never a 'squad,' we were just friends," she told the magazine. "We were not looking to call us a group or like, alliance. We just were friends, end of story."
The "we" in question is Campbell, Linda Evangelista, Cindy Crawford, Christy Turlington, Stephanie Seymour and Tatjana Patitz, for reference.
The comment could be read as a dig at the famous squads of today, most probably the one captained by pop sensation Taylor Swift. Her squad's membership may wax and wane, but the assembly itself never dies. Even if the "alliance," in Campbell's words, breaks apart, the many photos of Swift's cultish girl group will likely haunt our Instagram feeds for years to come, invariably captioned with the Swift-synonymous hashtag, #squadgoals. 
Which is why it's refreshing that Campbell and her supermodel friends eschewed the label. They weren't trying to self-promote or grab at photo ops; their relationships weren't driven by ulterior motives, she said. Their friendship was about nothing more and nothing less than the simple fact that these women legitimately liked one another.
"What people don't understand is that we never had any competition or bitchiness between us," Campbell continued. "We really were friends. We cared to hang out with each other when we're not working and have dinner together. We didn't want to be separated."
"I always tell people it was my time, my people, my girls, well, my ladies — because they are ladies," she added. "We were very supportive of each other, and we still are. That's the thing. We still are."
h/t The Cut