Introducing Chloe and Halle, Beyoncé's Young, Black Female Protoges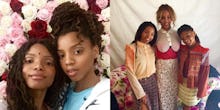 They're only teenagers, but their R&B artistry and vocal adroitness have already awarded them the sobriquet, Beyoncé's "angelic aliens." 
For Chloe and Halle, singing Beyoncé's biggest hits seemed to be a natural talent. A look through their joint YouTube channel shows the sisters have been performing duets at local gigs since they were 5 and 7 years old, including Billie Holiday's 1936 classic "Summertime." But their renditions of the Houston megastar's iconic ballads, from "Pretty Hurts" to "Nuclear," a song she performed with Destiny's Child, are the bulk of their most-watched covers. Now, the young North Hollywood girls are accruing a following, with nearly 700,000 subscribers — a number that will surely soar with the recent release of their first official single and music video, "Drop."
Rumors surged over a year ago that Beyoncé was recruiting the two to join her newly-created musical sect of Parkwood Entertainment — the artist's eight-year-old company — when the singer filed contracts for the underaged talents in a Manhattan court in May 2015. 
Since those contracts were approved, it would seem the two have developed a work ethic, as well as a newly-trained flare in front of the camera, similar to that of their new boss. The two have been traveling the world, performing at events most artists can only dream of (including a concert for First Lady Michelle Obama at the White House), began recording as artists under Columbia Records and released their first video with famed music video director Andy Hines. 
Initial reports state their deal with Parkwood will easily make each of them a black Bill Gates in the making, earning them advances that could total almost $1 million, not to mention Beyoncé's redesigning of their California home studio, NY Daily News reported. But their signing with Beyoncé's label, along with two other female artists, goes much deeper than finding the next Destiny's Child — the two will help pave the way for women in their industry, in any way they can. 
"The music industry is dominated by men. And these labels go out and try to make carbon copies of whoever is successful at that moment," Beyoncé said in her rare recent interview with Elle. "I'm over that... I want to take all my resources and give these artists the support of the best, to nurture them and allow them to be who they really are."
They're young, they're woke, they're invested in their futures — and they're being given the tools to develop themselves from someone who has seen the inner workings of the music industry. Then flipped it on its head. 
"I'd say I discovered my power after the first Destiny's Child album. The label didn't really believe we were pop stars. They underestimated us, and because of that, they allowed us to write our own songs and write our own video treatments. It ended up being the best thing, because that's when I became an artist and took control," Beyoncé told Elle. "It wasn't a conscious thing. It was because we had a vision for ourselves and nobody really cared to ask us what our vision was. So we created it on our own, and once it was successful, I realized that we had the power to create whatever vision we wanted for ourselves. We didn't have to go through other writers or have the label create our launch plans—we had the power to create those things ourselves."
Along with Halle and Chloe, New York artist Sophie Beem and fellow Houston entertainer Ingrid also signed onto Parkwood's new music label.
For these young women, it's just the beginning: a chance to break into a normally walled-off industry, dominated by men no less, as well as the opportunity to shatter a glass ceiling with the help of one of their biggest inspirations. 
Expect to hear more ethereal drops from these angelic aliens soon.