Former NFL Player Will Smith Shot and Killed in New Orleans Following Car Accident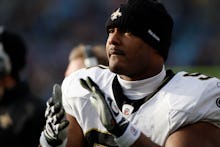 Former New Orleans Saints defensive end Will Smith died on Saturday after a fellow driver allegedly shot him following a car accident, the Times-Picayune reported.
New Orleans police told the paper Smith, 34, died "near the intersection of Sophie Wright Place and Felicity Street in the Lower Garden District" at about 11:29 p.m. A driver in a Hummer H2 rear-ended Smith's Mercedes Benz, causing Smith to hit another vehicle, a Chevrolet Impala. The driver of the Hummer then allegedly shot Smith several times, as well as wounded Smith's spouse Racquel with two shots to the right leg.
Hours before he died, Smith posted a message to his Instagram account from the French Quarter.
"Smith was slumped over the steering wheel of his vehicle, which appeared to have a gunshot hole in the windshield," the Times-Picayune reported.
A suspect, Cardell Hayes, is in custody.
Fellow Saints players, coaches and management shared their condolences on Twitter.
Smith played in the NFL during the 2004-2013 series. According to Bleacher Report, Smith "logged 67.5 sacks in his career, was named to the Pro Bowl in 2006 and played on the Super Bowl XLIV championship team."
Louisiana has some of the least strict gun laws in the country, according to Mother Jones, as well as the country's highest gun homicide rate. Nearly half of households in the state own a firearm. Legislators recently convened to review a package of 40 proposed reforms to the state's gun laws, with some Republicans advocating dropping permit requirements for concealed carry firearms.