Rebel Wilson's Spanx Had the Best Cameo at the 2016 MTV Movie Awards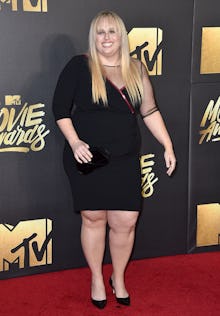 At the 2016 MTV Movie Awards, sexy fashion without a hint of effort was all the rage. 
Kendall Jenner walking in thigh-high lace-up heels? With two assistants, it's not a problem. Halsey wearing a bra as a shirt? Nothing to see here. Model Cara Delevingne wearing a seemingly gravity-defying velvet corset? Miracles happen. 
Read more: MTV Movie Awards Red Carpet Was Basically Filled With Sexy Funeral Clothes
Actress Rebel Wilson was really no different — or so it seemed until the facade fell oh so beautifully. 
On the red carpet Sunday, she wore a short, body-hugging black dress with red sequins criss-crossing the front by plus-size designer Marina Rinaldi. It was an outfit that fit perfectly into the show's strictly enforced dress code of casual club wear. 
But when Wilson got up to accept the award for best kiss with her Pitch Perfect 2 co-star Adam DeVine, she became a hero, a hero who is absolutely fine with letting everyone know that being sexy on a red carpet can require some effort, including elastic assistance. 
By which we mean Spanx.
"In real life, we have absolutely no sexual chemistry," Wilson said when the two accepted their award onstage. "She's speaking the truth. We have none, zero, zilch," Devine insisted. "Nada. I'm not turned on by her soft pillow-y lips. I'm not. I'm sorry." 
"Please, I'm not aroused by his little cabbage face and his tired little bubble butt," Wilson said with anticipation clearly building.
"And I'm not turned on by those emerald green... I'm not fully erect when I..." Devine trailed off. 
Then, right on cue, the two started sloppily making out, falling on the floor. With DeVine on top of Wilson groping away, Wilson's black Spanx were on full display (or, as full as MTV's censors would allow, which blurred them out in the telecast).
Yes, afterward, Wilson needed some readjusting.
Twitter, as expected, reacted well to this dose of reality: 
Given that Wilson is a professional comedian, we don't think this was an accident. For actresses like Tina Fey and Amy Schumer, talking about and showing off their Spanx is part of being the kind of women unafraid to say, "I am a real, human female who may want to looked a bit more sucked in on the red carpet. Because you know what? Women have it harder. Got an issue with that?"
In a time when perfection on red carpets and Instagram alike is supposed to look as effortless as possible, a moment like this one is a welcome one. For once, we aren't led to believe an actress just naturally has super-smooth curves. It's perfectly OK to wear Spanx if you want to... and show them off if you want to.