The Rock Just Excused His Memorably Awful Turtleneck Outfit as a "Buff Lesbian" Phase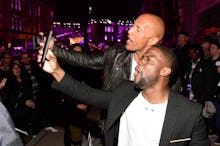 Going into Sunday's 2016 MTV Movie Awards, it was safe to assume that the back and forth between hosts Dwayne "The Rock" Johnson and Kevin Hart would include poking fun at one another, playing into their odd couple-ness. 
Read more: MTV Movie Awards Red Carpet Was Basically Filled With Sexy Funeral Clothes
But one joke near the top of the show failed to impress. In the bit, old photos of Johnson and Hart were splayed across the screen. Here's the Rock's photo, which he's presented in the past on his various social media channels:
"That's a turtleneck and a fanny pack," Hart pointed out when the photo was shown during the pre-taped telecast. "That's a bad package right there.'"
"Those are the days of me being a buff lesbian," The Rock retorted.
Johnson had actually tweeted the same joke ahead of the show:
Sure, it was a joke. But it also played right into a long-perpetuated stereotype of the "butch lesbian" as being the sartorial butt of the joke (think Birkenstocks, Doc Martens, flannel, etc). It's the age-old — and very tired idea — that all lesbians dress like men (and unfashionable ones at that).
The joke didn't exactly get many laughs — instead, a few awkward groans. Twitter wasn't loving it either:
FWIW, you didn't really need to lesbian comment to know: It's an admittedly funny photo that reeks of '90s, from the hair to the turtleneck to the fanny pack. It's so funny it's been turned into a meme:
And a GIF:
Someone even, bless their hearts created a dedicated "The Rock fanny pack meme generator." 
So yes, we can all agree, LOL, The Rock was formerly basic AF. We get it — comedians and former professional wrestlers turned movie stars hosting award shows have free reign to poke fun at people. If you're going to make a joke, at least make it a funny one.