MTV Movie Awards Red Carpet 2016 Was Basically Filled With Sexy Funeral Clothes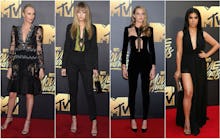 Why so sad, celebs?
MTV awards shows are usually an excuse for stars to go as batshit crazy bold as possible with their clothing choices. But this weekend's MTV Movie Awards (which will air on MTV on Sunday night) were filled with celebrities wearing black, black and more black, with a heavy emphasis on sheer and lace. 
Call it "funeral chic"... or call it brilliant, if you're one of the diehards out there who's committed with a near-religious fervor to wearing black and only black 99% of the time. If you're one of those people, well, the 2016 MTV Movie Awards red carpet was your dream come true.
The A-listers went black and glitzy.
The cast of Pitch Perfect 2 was perfectly coordinated in black.
A former Mean Girls star channeled her Janis Ian days.
Even the celebrity girlfriends were wearing black.
All in all, it would have been a serious, somber night... if only it weren't the kind of show where winners take home popcorn statues and one of the categories is best kiss. MTV, just keep doing you.