Melissa McCarthy Sends Powerful Message in MTV Movie Awards Speech — and With Her Outfit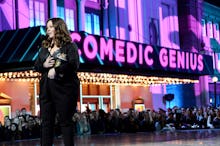 Even before the show aired on Sunday night, Melissa McCarthy knew that she'd be making history at the MTV Movie Awards. For the first time ever, a woman would be winning MTV's Comedic Genius Award, and it was McCarthy who'd be receiving the honor. 
Fittingly, in ways both spoken and unspoken, McCarthy used the occasion to prove how much of a trailblazer she really is — when it comes to comedy, but also to red carpet fashion.
Read more: Melissa McCarthy Calls Out Sexist Hollywood Double Standard
In her speech, McCarthy told the crowd (after crowd-surfing on them), "I may be the first woman to receive this award but I am certainly, certainly not the the first to deserve [it]."  
She cited Whoopi Goldberg, Gilda Radner, Lily Tomlin and Lucille Ball as just a few of the many women who influenced her as a young woman to pursue a career in comedy.
"I think I am a walking human patchwork of all the remarkable, funny women who I have loved and studied over the years," she said. 
She also said those women were the ones who taught her how to face harsh criticism, while also being fully capable of turning it around and defending themselves.
"[Women who] taught me not to fear being the butt of the joke..." she said, "or not worry about being likable or perfect and to lovingly go for the kill." 
It's a stance McCarthy knows well, on-camera and off. Going for the kill was precisely what she did by choosing to wear a leather black jumpsuit for the show, a style that's edgy and very on-trend. She wasn't aiming to blend in, as so many plus-size women are forced to when choosing clothes. 
Curvier celebrities in particular are often bashed for wearing something "unflattering" or something that looks more like a tent than a dress. Worse, that's often because those are the only options on offer, with very few designers are creating stylish and sexy dresses for women over a size 12. Many times, a curvier woman just can't win. 
But McCarthy avoided any and all plus-size tropes by taking a risk. The look was a win not only for McCarthy, who has been slammed in the past for red carpet outfits, but for plus-size women still struggling to catch the eye of the fashion elite. The look was sharp, sleek, young and incredibly flattering, hitting all the right notes for a woman being honored at a rather ridiculous movie awards show. 
To designers who may be trying to figure out what plus-size women really want to wear, here's your answer.