Bernie Sanders Walks Back Hillary Clinton Unqualified Comment, Questions Judgment Instead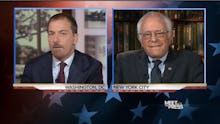 Get the five stories that will challenge you to rethink the world by signing up for MicCheck Daily.
Remember when the presidential race was cordial, at least on the Democratic side? 
Those days, of course, are quite clearly behind us, with both Vermont Sen. Bernie Sanders and party frontrunner Hillary Clinton escalating their war of words. On Thursday, Sanders called Clinton unqualified for the presidency; the White House defended her, while others — including political spouse Bill Clinton and Missouri Sen. Claire McCaskill — highlighted the inherent sexism in the senator's remarks. On Sunday, Sanders revised his rhetoric — sort of. 
Read more: Hillary Clinton Supporter Created #HillarySoQualified — And It Immediately Backfired
"She may have the experience to be president of the United States," Sanders said on NBC's Meet the Press. "No one can argue that. But in terms of her judgment, something is clearly lacking."
Citing her history of voting for trade agreements "that have cost the workers of this country millions of jobs," support of fracking, acceptance of donations from Wall Street and special interest groups, the senator explained that Clinton wouldn't be the most trustworthy choice for the American people. He also accused her camp of "going after us ... very very hard" in recent weeks. 
Sanders said essentially the same thing in an interview with CNN's Jake Tapper and with ABC's Cecilia Vega on Friday. "Is that person who has that kind of bad judgment qualified to be president of the United States?" he asked Vega. "Well, qualified is a broad word, but I think that judgment lapse suggests that, you know, she might not be the best president that we need."
Which is to say, game on.