These 15 Photos Show What's Happening to Asylum Seekers in Greece Today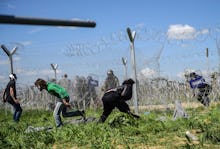 On Sunday, violence hit a Greek facility hosting thousands of the more than one million asylum seekers to arrive in Europe since a continent-wide migration crisis accelerated throughout 2015.
Migrants trapped at a facility in Idomeni, Greece following the closure of a migration route through the Balkans were attempting to break past border guards. 11,000 migrants scheduled for deportation are held at Idomeni, and 10,000 others are being kept at three other locations throughout Greece, reported the San Francisco Chronicle. 
Macedonian riot police launched tear gas, fired water cannons, shot rubber bullets and even threw rocks at the refugees for more than two hours, according to Deutsche Welle. Doctors Without Borders told the news service they treated about 300 people for tear gas exposure and trauma.
Photos from the scene showed chaos, and many people injured. Russian state-funded broadcaster Russia Today showed video of riot police throwing objects at people in the camp.
The Greek government has condemned the actions of the Macedonian police. Government spokesman George Kyritsis told the BBC "the indiscriminate use of chemicals, rubber bullets and stun grenades against vulnerable populations ... is a dangerous and deplorable act."
Macedonian police told the BBC migrants had started the fight, throwing rocks at guards.
It's a far cry from the scene in Germany and Austria in September 2015, when photographers captured thousands of refugees being greeted with fresh clothing and food supplies. Many of the migrants come from war-torn countries including Syria and Afghanistan, where they are fleeing chronic poverty and violence.
In the months since, two terror attacks linked to ISIS in Paris and Brussels, Belgium helped sour public opinion toward the migrants. Far-right parties have increased in power, partly due to a concerning growth in anti-immigrant sentiment throughout Europe. Meanwhile, migrants have been upset to see costly and dangerous voyages to Europe end in camps, deportation and discrimination.
"As long as people are not offered a solution, a path to safety, and they are forced to sleep in the mud, this will only get worse," Amnesty International Deputy Europe Director Gauri van Gulik told Deutsche Welle. "Europe has to offer refugees relocation urgently, and they have to stay in dignified reception facilities while they wait."