Kendrick Lamar Honors NWA at Rock and Roll Hall of Fame Induction Ceremony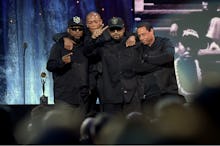 The 31st Rock and Roll Hall of Fame induction ceremony was a well deserved night for the organization's newest members, including Cheap Trick, Steve Miller, Chicago and none other than the notorious West Coast rap group N.W.A. Kendrick Lamar honored Ice Cube, Dr. Dre, the late Eazy-E, MC Ren and DJ Yella with a moving speech, calling the Compton forbears "black superheroes" that "did a lot more than entertain, they told the truth," Rolling Stone reported. 
"The fact that a famous group can look just like one of us and dress like one of us, talk like one of us, proved to every single kid in the ghetto that you can be successful," Lamar said of N.W.A.'s influence on black communities and hip-hop across the nation. "That was N.W.A. That was their true message. And I know each and every one of them said they never wanted to be role models, but look... The first time I see Eazy bust through that screen out the jail cell on stage on "We Want Eazy," I felt like every single one of them was black superheroes where I come from. Because it shows, like I said, people from our community can be on that television screen, be on awards, and still have their voice and be real to themselves. So make some noise for that because that's the realest thing."
N.W.A. (Niggaz Wit Attitudes) gained notoriety throughout the late 80's and 90's as one of the critical voices opposing police brutality and boldly standing up for racial justice in a number of hits, including "Fuck tha Police" and "Chin Check," among countless others. The group was recently the focus of an award-winning film titled Straight Outta Compton, directed by F. Gary Gray, with counsel from the original members. 
"As you know the history, a lot of people said it was too gangster. It was too much for them. But for me, it was honest. So I'm going to put it like this. Being gangster symbolizes a hustle that you can change your reality. The true meaning of gangster, being able to show what it takes to be the world's biggest music group. Being gangster is forming iconic labels: Ruthless Records, Death Row, Aftermath Records. Being gangster is breaking out to become a movie star, a movie producer, and having your own son play you as a retrospect to your career, Straight Outta Compton," Lamar said. "Being gangster changed the way people listened to music. Being so obsessed with sound that you create your own headphones and force people and fans around the world to listen to deep, intricate sounds the way you oughta hear, you dig? Being gangster is partnering with the biggest tech companies and launching groundbreaking music on a whole other platform. So now after 30 years of being heard, being gangster is being inducted into Rock and Roll Hall of Fame."
It's not the first time Lamar has shared his sentiments with N.W.A. Check out his interview with the group from last year below: