NASA Recorded What Space Sounds Like and It's Really Spooky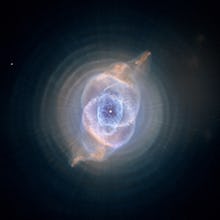 Ever wonder what space sounds like? Thanks to NASA, you no longer have to: The organization has taken electromagnetic recordings of the final frontier's soundscape for your listening pleasure. 
Read more: The Internet Is Going to Be 3-D Printed in Space — Because We Can, Damnit
"The recorded sounds are the complex interactions of charged electromagnetic particles from the Solar Wind, ionisphere and planetary magnetosphere," reads the caption on a sound snippet compilation video published on Disclose.tv. The clips come from recordings of Saturn's rings, Miranda, Neptune, Saturn, Jupiter, IO, Uranus and Uranus' rings. You can also hear segments of Voice of Earth and Song of Earth in the video.
The sounds of space, it will surprise no one to learn, are empty, eerie and spectral. They're probably comparable to the sonic experience of being very, very deep underwater — of life lived in a submarine, perhaps. 
For the adventuresome amateur astronomers in our midst, a 24-hour stream of these space sounds is available at Radio Astronomy.