Orlando Brown Says Raven Simone Aborted His Baby in Bizarre Music Video, "Fuck My Fame"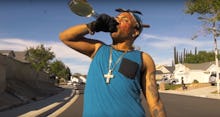 It's as if Kendrick Lamar, Kanye West, Jeremih and Young Thug gave birth to a former Disney child star turned rapper, who apparently doesn't give a fuck about his fame. Orlando Brown, known for his role as Eddie on That's So Raven, released a new music video last week titled "Fuck My Fame" that's making waves online — but definitely not because it's the critical revival needed for his career. 
In fact, it's just the opposite: Brown literally shows himself lighting a crack pipe within the first 30 seconds, and continues to act out a bizarre scene, as if he were dying (though he continues to rap, disgruntled in his passed out state). The actor-turned-mediocre-rapper blasts Harvey Levin, founder of TMZ, as well as his gossip site, and the tabloid media which doesn't typically give him an easy time — though, to be fair, he brings some of it on himself by allegedly striking his girlfriend in public parking lots.
Some notable lyrics:
"Raven aborted my baby" — a claim he suggested when he took a video selfie last month on Instagram while listening to his own music: a move that backfired completely. 
"How was I supposed to know, my favorite stripper was engaged to my bro?"
"Man, fuck TMZ! Fuck Harvey, and fuck his whole staff, nigga I'm going in."
"I need a bigger dick to fuck all my enemies/ lit off the Hennessy, these naggers killing me/ everyone billing me/ family drilling me, snitches revealing me/ nobody feeling me/ sick and tired of the media lying."
Well damn. Who knew it got that tough out here for a former childhood Disney star.
Social media was divided by the dramatic performance. Some expressed their dismay for Orlando, as well as concern for his overall health:
However, some noted his delivery was surprisingly good, though it was masked by a questionable video and some explicit lyrics (which don't quite add up).