Zara Managers Allegedly Reprimanded an Employee for Wearing Her Hair in Braids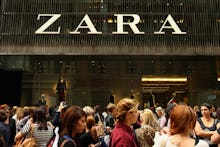 A Zara employee in Toronto was left feeling hurt and frustrated after her store managers allegedly took her outside and scolded her for wearing her hair in braids.
According to 20-year-old Cree Ballah, her long hair had been styled into box braids and swept back into a ponytail on the day in question, the CBC reported. She said she was initially approached by a manager, who asked her to take her hair down. A second manager then asked if the three of them could step outside the store where, in full view of any passers-by who cared to see, both managers began trying to "fix" Ballah's hair on their own.
Ballah told CBC the managers justified their actions by saying her hairstyle wasn't a good fit for Zara's "look."
"They took me outside of the store and they said, 'We're not trying to offend you, but we're going for a clean professional look... and the hairstyle you have now is not the look for Zara,'" she said.
Ballah, who describes herself as biracial, said she filed a complaint of discrimination with Zara's human resources division, the CBC reported.
"My hair type is also linked to my race, so to me, I felt like it was direct discrimination against my ethnicity in the sense of what comes along with it," she told CBC. "My hair type is out of my control and I try to control it to the best of my ability, which wasn't up to standard for Zara."
Ballah's encounter is far from the first time women of color have cited discrimination in the workplace as a result of their hairstyles. As Mic reported recently, a casual Google images search for "professional hairstyles" turns up predominantly white female results. Search for "unprofessional hairstyles", however, and the women displayed are mostly dark-skinned.
In a statement, Zara refused to tolerate discrimination in any form, saying it has no formal policy regarding employee hairstyles, aside from the fact that they must always look "professional."
Read more: If You Google "Unprofessional Hairstyles for Work," These Are the Problematic Results