This Woman Went Snowboarding While Being Chased by a Bear — And She Didn't Even Know It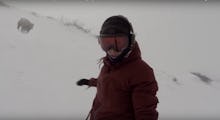 Get the five stories that will challenge you to rethink the world by signing up for MicCheck Daily.
Selfies — it has been speculated — kill more people each year than we realize. Now, footage taken by a woman in Japan shows how close she was to being the next selfie fatality. 
And believe it or not, she almost recorded her own demise. 
Read more: Selfie Deaths Have Become All Too Common — the Question Is, Why?
Kelly Murphy was snowboarding in Japan's Hakuba 47 Winter Sports Park near the city of Nagano when what is believed to have been an Asian black bear jumped out from behind the top of a mountain and began chasing her down the slope. 
Murphy, humming Rihanna's "Work," was completely unaware throughout the experience as she filmed herself going down the mountain.
In GIF form, It looked something like this.
Eventually, Murphy's skills proved too much for the animal, with the snowboarder leaving the bear in the dust before heading down the mountain's final stretch. 
"OMG! I was going through my snowboarding videos and I found a bear chasing me!!!" she wrote on YouTube after uploading the video Sunday. "I nearly got eaten!!! ... Be careful people!!!"
Many commenters online insisted that the video must be a fake, however bear sighting near the slope have been common in recent years.  
Watch the full video here: