The New 'Suicide Squad' Trailer Shows the Joker and Harley Quinn Like Never Before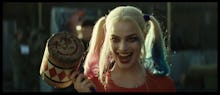 Get the five stories that will challenge you to rethink the world by signing up for MicCheck Daily.
After critics panned Batman v. Superman: Dawn of Justice, leading to the birth of the Sad Ben Affleck meme, DC Comics' hope hinges on its villainous turn come August. Suicide Squad, which will put the comics' greatest selection of bad guys together for the U.S. government's bidding as a chaotic black ops team, released a new trailer Sunday at the MTV Movie Awards, featuring the heaviest dosage of the Joker (Jared Leto) and Harley Quinn (Margot Robbie) to date. 
The trailer harps back to the point of Superman, an alien with seemingly God-like powers to most human beings, and begs the question: What would happen, and who would stop him, if he just wanted to snatch the president from the Oval Office? Enter Suicide Squad, a rogue group of baddies featuring the likes of Harley Quinn, Killer Croc (Adewale Akinnuoye-Agbaje) and Deadshot (Will Smith).
The Joker, meanwhile, doesn't appear to be part of the team — at least from the start. His biggest moments include hitching a ride in an appropriately purple Lamborghini and fending off what appears to be Batman (Affleck has been confirmed for the film). Though in fairness, nobody on the team is treading through Gotham quietly. 
The film is going through reshoots to give it a lighter, more comedic tone — no doubt affected by the recent success of Marvel's Deadpool. However, it's not expected to miss its premiere date of Aug. 5. And, of course, it shouldn't hinder the chaotic on-screen appearances of Quinn and the Joker, it just might make them more entertaining. 
Check out the latest trailer for Suicide Squad below.
Read more: Watch the First 'Suicide Squad' Trailer, Featuring Jared Leto's Terrifying Joker