Hillary Clinton Hits Donald Trump on Muslim Ban, Abortion Proposals in New Ad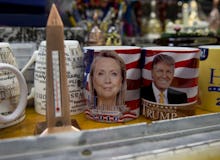 She probably won't get invited to his next wedding.
Hillary Clinton is tearing into Donald Trump in a new television spot airing ahead of the New York primaries, with the Democratic frontrunner ripping her GOP counterpart on proposals she dismisses as divisive and dangerous.
Read more: Bernie Sanders, Ted Cruz Score Wins in Wyoming and Colorado
The 30-second spot mingles the voice of an announcer with clips of Clinton — both lambasting billionaire Trump for the most controversial comments he's made during the campaign cycle about Mexican immigrants, punishing women who get abortions and about keeping Muslims out of the United States as a matter of national security.
"With so much at stake, she's the one tough enough to stop Trump," the narrator says in the new ad, "Stronger Together."
"He says that we should punish women who have abortions; that Mexicans who come to America are 'rapists,'" the ominous new spot warns, "and that we should ban Muslims from coming here at all."
The spot cuts from video of Trump's bombast to a clip of Clinton's recent appearance at the Apollo Theater in Harlem, where she said, "Donald Trump says we can solve America's problems by turning against each other. It's wrong — and it goes against everything New York and America stand for."
ABC News reports the ad "will begin airing in New York City early this week and is part of an existing, high six-figure ad buy in the city, according to a campaign aide."
Clinton and Trump both claim home-court advantage in the upcoming Empire State contest, but neither has yet locked their respective nominations and face continuing competition from their primary rivals.
RealClearPolitics polling averages show Trump leading John Kasich, 53.5% to 21% in the New York primary, with Ted Cruz trailing at 18.8%. Clinton is beating Bernie Sanders by a margin of 54% to 40%.
In hypothetical head-to-head general election matchups, Clinton leads Trump 49.6% to 39% in the RCP averages.
New York will hold its primaries April 19.