Khloé Kardashian Opened Up About Letting Go in a Candid and Heartbreaking Instagram Post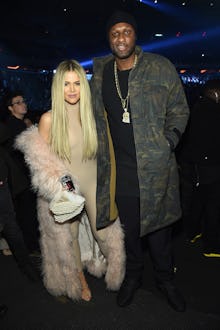 On Instagram Sunday night, Khloé Kardashian took time out from selfies and outfit shots to open up about her relationship with Lamar Odom. Though Kardashian never explicitly named the NBA player nor his widely reported struggle with drugs and almost fatal overdose at a Nevada brothel, the inspiration behind the missive was clear.
"It doesn't matter how loyal you are to someone. You can't change someone's heart and bad habits unless they want to themselves," the 31-year-old wrote in a caption.
"Sadly, You can only express your opinion on a situation. You can't want their life more than they do. This is in fact their life to figure out on their own and in their own time. I do believe in timing," Kardashian wrote. 
"I do believe timing is everything. You forcing your beliefs and dreams down one's throat is only going to cause resentment and possibly manifest deeper issues. Possibly to the point of no return."
Kardashian was by the side of her estranged husband after he was found unconscious in a Nevada brothel last October and spent weeks in multiple hospitals and recovery units. Kardashian helped facilitate his move from Nevada to California and spent much of her time at his bedside. 
Since his apparent slow-but-steady improvements in health, the two have occasionally been attending events together, including Kanye West's launch of Yeezy Season 3 and his album The Life of Pablo in New York City. 
Though the two were seen dancing, cheering and having an overall good time surrounded by family, Kardashian later tweeted, "God forbid exes are cordial," as rumors immediately began swirling online of the two's status. At the time, Kardashian's relationship with NBA player James Harden had just ended.
"Stop shattering your own heart by trying to make a relationship (friend, family, partner) work that clearly isn't meant to work," she wrote. "We have to stop trying to repaint people's colors. We have to learn to believe the love we AREN'T given. You can't love someone into loving you. (God I wish it were that easy.) 
"You can't force someone to be loyal, kind, understanding. You can't force someone to be the person you need them to be. Even if it's for their own good!! Sometimes the person you want most is the person you're best without."
Shortly before posting her lengthy message, Kardashian uploaded another quote, along with the caption, "Just because someone doesn't love you the way you love them, doesn't mean they don't love you with all their heart."