Black Leaders in North Carolina Are Ready to Stage Sit-Ins to Fight Anti-LGBT Legislation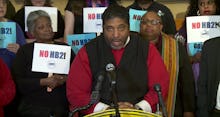 When it comes to North Carolina's House Bill 2, the state's NAACP branch wants the legislature to know: We're not going to stand for it. Literally. 
On March 23, North Carolina passed HB 2, a law requiring citizens to use the bathroom that matches the gender they were assigned at birth rather than the gender they identity as — and it hasn't taken long for critics of the bill to speak out. There has already been a statewide PayPal pullout and a canceled Bruce Springsteen concert among other protests against the state.
Read more: North Carolina Reminds the World After Anti-Trans Law That #WeAreNotThis
Now the North Carolina NAACP is threatening to stage a series of sit-ins if the legislature does not repeal HB 2 by April 21. At a press conference on Saturday, Rev. William Barber, president of the North Carolina NAACP, said that he would call the bill, "Hate Bill 2."
"We are organizing and planning now a campaign of mass sit-ins at the general assembly, calling on people of faith, people of conscience to join as a moral witness against this unconstitutional and immoral legislation," Barber said. "We cannot allow this kind of codifying hate in our constitution." 
Barber explained what he believed to be the true motivations behind the bill. "Hate Bill 2 ... is a race-based, class-based, homophobic discriminatory bill ... that is nothing more than the politics of Jesse Helms revisited," Barber said. Helms was a famous 1960s-era conservative from North Carolina who stridently opposed civil rights. 
According to Barber, HB 2 was never about bathrooms. "It's not about bathrooms, just like segregated bathrooms was never about bathrooms," he said. "It was about a political statement; it was about oppression; it was about having public signs of domination." 
Barber was adamant that the religious reasons for the bill were misguided and hypocritical, stating that true religion would be on the side of the marginalized and oppressed. 
"True religion starts with how you care for the poor, the least of these, the broken and the marginalized and the pushed out and the stranger," he said. 
The North Carolina legislature is not due to return until April 25, which means that they would have to convene a special session in order to repeal the law before then. Thus far, lawmakers have claimed they are unwilling to do so. While convening an "emergency session" sounds like a Herculean task, there is precedent: HB 2 itself was actually passed by North Carolina lawmakers during an "emergency session," and Gov. Pat McCrory signed the bill later that same night. 
Despite zero recorded instances of a trans person ever assaulting someone in a bathroom, HB 2 is currently law in North Carolina. Thankfully, the NAACP will stand up and sit down for the rights of North Carolina's transgender citizens.