Donald Trump Thinks He and Bernie Sanders Are Both Getting a Raw Deal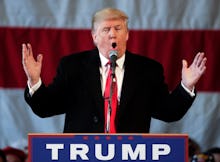 Donald Trump and Bernie Sanders may not see eye to eye on most issues, but the billionaire businessman says he and the scourge of the "billionaire class" share one big thing in common: They're both being cheated by a "rigged system" as they vie for the Republican and Democratic presidential nominations.
"A crooked deal": With Trump at risk of being denied the GOP nod if he arrives at the party's July convention short of a delegate majority, the real estate tycoon ripped his party's delegate selection process as a "crooked deal" during a Monday morning appearance on Fox News' Fox & Friends.
"Well it really started with Colorado, and the people out there are going crazy — in the Denver area and Colorado itself — and they're going absolutely crazy because they weren't given a vote, this was given by politicians. It's a crooked deal, and I see it," Trump said, discussing rival Ted Cruz's sweep of the Rocky Mountain State's 34 delegates at its GOP convention over the weekend.
Trump leads Cruz 743 to 545 in the GOP delegate count, per figures from RealClearPolitics, but if Trump fails to win a 1,237-delegate majority, the race may well slip from his grasp on the second ballot at the GOP convention, when delegates become unbound. 
That's set off a delegate-by-delegate fight among the campaigns of Trump, Cruz, and John Kasich — and it's emblematic of a system Trump says is designed to thwart outsiders.
"And I see it, honestly, I see it with Bernie, too," Trump said.
Not quite the same: Though Sanders' recent string of victories has failed to significantly dent Hillary Clinton's delegate lead in the Democratic race — a lead padded by her overwhelming support among superdelegates, party elites who are free to back any candidate they wish — Trump and Sanders' predicaments aren't quite identical.
Sanders trails Clinton in the popular vote, with the former secretary of state having won more than 9.3 million votes to the Vermont senator's 6.9 million, according to RealClearPolitics. Meanwhile, Trump decisively leads the GOP popular vote, with about 8.2 million votes to Cruz's roughly 6.3 million. 
But as NBC News noted, Trump's share of the delegate haul so far actually outpaces his portion of the popular vote. Trump has won about 45% of delegates allocated, compared to about 37% of the popular vote.
Still, denying the party nomination to a candidate with a clear delegate and popular vote plurality would mark a feat that hasn't been witnessed since the dawn of the modern primary system — and the very possibility of such a scenario underscores the underlying tensions between democratic principles and how parties actually select their nominees.