People Really Hate the New Pocket Pearl Tampons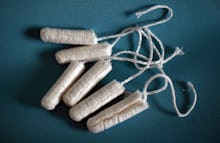 Major tampon manufacturer Tampax decided to take its beloved Tampax Compak and transform it into something, well, a little less beloved. The company is calling their new creation the Pocket Pearl — and it's causing their loyal customers to express their dismay, discomfort and disappointment over the change. The Pocket Pearl was rolled out last year — and the company has been received plenty of complaints ever since, according to Cosmopolitan. 
"I have been loyal to the Tampax brand for 20+ years and loved the Compak version — but after this experience, I will be trying other brands for the first time ever," one Amazon buyer wrote. "I am so disappointed in this terrible design. It deserves zero stars."
People claim not only that the new applicator design does not always work, but that the new tampons inside those faulty applicators are not comfortable. Many also say that the tampon tends to leak, therefore defeating its own purpose. 
On Amazon, the Pocket Pearl has 58 reviews and a rating of 1.7 out of 5 stars as of Monday morning. Users called it "beyond awful," "unusable" and the "worst redesign ever." Many reviewers who struggled with the Pocket Pearl also noted that they were once loyal Tampax buyers. 
Read more: Three Feminist Geniuses Just Invented a Pair of Panties That Could Change the World
Even on the Tampax website itself, the Pocket Pearl has 502 reviews and 2.99 stars out of 5. The same flurry of complaints can be found on its Facebook page. 
Despite all these consumer complaints, Tampax estimated that just 1% of people have issues with the Pocket Pearl, Tampax spokeswoman Laura Dressman told Cosmopolitan. The company claims to have a design team already working on fixing the sporadic applicator. 
Meanwhile, the company offers refunds and released a tutorial video showing people how to properly insert the Pocket Pearl (which may or may not bode well with customers), BuzzFeed reported.
Watch for yourself: