We Hereby Present the Kate Middleton Hair Guide to Humidity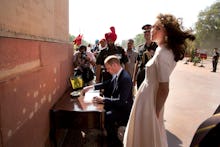 For the past few days, Prince William and Princess Kate have been in India, which means exactly two things: We get to see some great fashion, and we get to see an exquisite example of how someone with perfect hair deals with humidity. 
As any human person with hair may know, humidity has a certain way of fucking up your entire existence. You sweat, you bloat and your hair goes from tame and smooth to a nest occupied by at least one rat family. Humidity is an enemy of the human race. 
The Duchess of Cambridge, however, seems to really only use it to her favor. Yes, the weather's effects are evident in her famous mane. It proves that she is a real person with real hair, despite our assumptions that a fairy just came down from the sky, flicked its magic wand and gave her the shiniest strands in all the land.
But really, Kate pretty much makes humidity her bitch. 
For example, this is how she looked on Monday in New Delhi, where the temperature was 95 degrees with 18% humidity: 
Not bad, right? It's probably just the angle? The wind? The fact it probably felt like she was in a sauna? Even with all those factors, this is how she looked.
We would be begging for shade, with tears joining the beads of sweat collecting on our faces...
Instead, this is how Kate's hair looked once the wind died down. A few flyaways? Who cares? A little sweat? Not to worry. It is very hot in New Delhi and she is rolling with it. 
Her Sunday was spent outside playing cricket with a group of schoolchildren in Mumbai. It was a high of 93 degrees with humidity over 50%. We would have died — meanwhile, the princess looked like this: 
"Teach us your ways," we scream. "We beg of you." 
This isn't even the first time this princess has given a master class on how to still look put-together in torturous temperatures. During the couple's Diamond Jubilee Tour of the Asia-Pacific region in 2012, she exhibited a remarkable ability to make unruly hair look luxurious. 
Here she is with her husband in Tuvalu in September 2012, when the temperature was teetering on 90 degrees with high humidity. We would be full-on flop-sweating, and she looks like this: 
A sun-kissed, post-honeymoon look. During the same Jubilee Tour, the Duchess of Cambridge also visited the Solomon Islands, where, in September, temperatures are in the high 80s and humidity rarely drops below 67%.
Yet Kate looked like a fresh-faced college student in a muggy bar. In other words, still basically pristine. She was on an island, for God's sake, and she just looks slightly curlier:
Look at her! Look at her. 
So, a little more than two years later, as she's back at it again with the frizz-defying hair in India, we really shouldn't be that surprised. Here she is walking outside Sunday in Mumbai's 94-degree heat with 67% humidity — with nary a glimpse of real worry. 
And here is how she looked in 90-degree weather in Mumbai after a day of playing cricket outside with a group of children. We knew up-dos could be powerful, but wow:
Sure, she may be a human woman who has real hair not made of silk, but she also has the ability to accept whatever the current temperature may be and remain unbothered. Unperturbed. No flyaways or frizz can bring this woman down.
Meanwhile, we'd be all:
Is it witchcraft... or lots of professional help? Her hairdressers have a near-obsessive fixation with taming frizz. According to Kate's hairstylist, Richard Ward, he only uses specific kinds of brushes and blows the hair out in the slowest possible way, as to not disturb her roots. Then, he puts her hair into velcro rollers and slowly unravels them, trying not to pull them out too quickly, as even that may cause frizz.
Fine, she doesn't do it all on her own. She isn't magic. But on her own, out in the heat, she still owns it all by herself. How does the Duchess of Cambridge, an impossibly gorgeous and perfect-looking person, deal with going from cool and neutral London to a place like India? 
Like a boss. After all, if this is what the duchess calls a "bad hair day"...