Pink Floyd's 'Dark Side of the Moon' Syncs Up Perfectly with the New 'Star Wars' Movie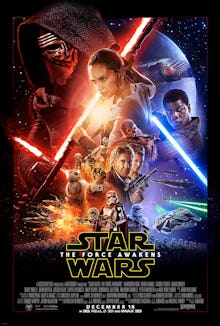 Pink Floyd's Dark Side of the Moon has long been the fuel for some of rock 'n' roll's wildest urban legends.
One of the strangest even has its own name: "The Dark Side of the Rainbow."
The premise of "Dark Side of the Rainbow" — which sports its own Wikipedia page — dates back to a fan theory that surfaced in the mainstream in 1995. It holds that if one plays Pink Floyd's Dark Side of the Moon at the same time as the 1939 film The Wizard of Oz, the two will sync up, shot for shot.
"Song lyrics and titles match the action and plot," journalist Charlie Savage wrote at the time. "The music swells and falls with character's movements ... expect to see enough firm coincidences to make you wonder whether the whole thing was planned."
Fast-forward to 2016, and fans have found a new movie that synchs with Dark Side of the Moon in an astonishing way — Star Wars: The Force Awakens.
A thread on Reddit's /r/pinkfloyd has detailed all the ways that Dark Side of the Moon match up with the action of the episode seven. 
Here's a few examples (with spoilers, obviously):
During the "The Great Gig In the Sky," the vocal snippet "I'm not afraid of dying. Anytime will do" plays just as Poe wakes up in the torture chamber to find himself face-to-face with Kylo Ren. 
"Time," a song about "ticking away the moments that make up a dull day," plays while Rey runs through her daily trash-scrapping routine. 
During Kylo and Rey's final fight, the "Us and Them" lyrics go, "Black and blue/ Who knows which is which and who is who." Kylo dresses in all black, and Rey's lightsaber is blue.
Video of the first eight minutes of the film, synced with Floyd, is already up online. 
Check it out for yourself and decide whether or not this is just one stoner's illusion or something much more profound.