Twitter Is Having None of Melissa McCarthy's Critics Taking Shots at Her Success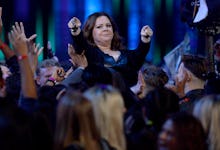 Melissa McCarthy had a very good weekend.
The actress returned to Gilmore Girls, became the first woman to win the MTV Movie Awards' Comic Genius Award and gave a great speech in the process.
To top it all off, her new movie The Boss made $23.5 million at the box office this weekend, dethroning Batman v. Superman: Dawn of Justice. The movie only cost $29 million, so it will easily make back its budget.
So why did her critics spin it as a failure?
Deadline called the movie's box office performance "a warning sign" for McCarthy. The New York Times described The Boss winning the week as McCarthy's "box office wobbliness."
This didn't sit well with McCarthy's supporters on Twitter — at all.
A few pointed out the inherent hypocrisy of criticizing McCarthy's box office: Why isn't the same done for male stars who have similar flops?
At the end of the day, however, the hypocritical and baseless criticism will roll off McCarthy's back. The proof is in the numbers.