The Number of Wild Tigers Has Increased for First Time in 100 Years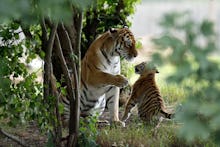 For the first time in a century, tigers are making a rebound in the wild. Scientific American reported on Sunday that officials at the Third Asia Ministerial Conference on Tiger Conservation announced the estimated number of tigers living in the wild now stands at 3,890 — a  "fairly dramatic increase" from the last estimated tally taken in 2010, when the number stood at 3,200.
The higher tally marks some, but not totally satisfactory, progress towards the 2022 goal of 6,000 wild tigers set during the Global Tiger Summit in 2010.
"This is a pivotal step in the recovery of one of the world's most endangered and iconic species," World Wildlife Fund Senior Vice President of Wildlife Conservation Ginette Hemley said in a statement. "Together with governments, local communities, philanthropists and other NGOs, we've begun to reverse the trend in the century-long decline of tigers. But much more work and investment is needed if we are to reach our goal of doubling wild tiger numbers by 2022."
Tigers remain critically endangered, with poaching, territorial destruction and environmental degradation all killing off large numbers of tigers. According to CBS News, an estimated 100,000 tigers were alive in the year 1900. In China, Scientific American reported, an "estimated 7,000 tigers live on farms waiting to be turned into rugs, tiger-bone wine and other traditional Asian medicines."
India has seen the greatest increase in number of wild tigers, with 2,226 estimated this year, up from 1,706 just five years ago. According to National Geographic, an increase in anti-poaching patrols, compensation for "farmers or villagers who experience injury or loss from tigers" and sustainable tiger tourism have all played a role in boosting the nation's number of wild tigers.