'Fantastic Beasts and Where to Find Them' Trailer Shows 1920s NYC as Almost Totally White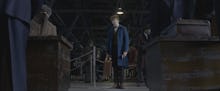 The second trailer for the first movie in J.K. Rowling's much-awaited Harry Potter spinoff trilogy, Fantastic Beasts and Where to Find Them, dropped on Sunday night and many fans are questioning the movie seemingly whitewashing 1920s New York City. 
Unlike all prior works in the Harry Potter universe, Fantastic Beasts is set in the United States in the year 1926, and stars a brand new protagonist in the form of Newt Scamander (Eddie Redmayne), a famed magizoologist (like a regular zoologist, but with more magic). Scamander's in New York to visit the Magical Congress of the United States of America. In this trailer, he's attempting to smuggle a briefcase filled with the objects of his study and their habitats.
"Anything edible in there?" a customs official asks him. "Any livestock?"
"No," Scamander says.
"Welcome to New York."
This trailer also contains a look at auror Percival Graves (Colin Farrell), a U.S. wizard law enforcer who is sent after Scamander when the creatures in said suitcase inevitably run loose.
Rowling's version of 1926 New York is rousing, elaborate and, as some fans noted on Twitter, almost entirely white, with the sole exception of actress Carmen Ejogo (who plays the wizarding president, Seraphina Picquery).
The real New York of the 1920s was a "bustling, multicultural metropolis" that looks little like the Fantastic Beasts version, and in the year 1920 "over approximately 40% of the city's population were foreign born," wrote Hypable's Marama Whyte.
Rowling herself has preemptively fought back against some of the criticism, asking fans to wait and see her movie before judging it white-washed.