Watch Miley Cyrus, Susan Sarandon and 21 More Celebs Reveal Why They #FeelTheBern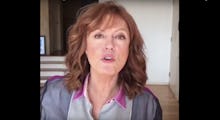 #FeelingTheBern isn't just for bros on the internet — at least 23 celebrities are feeling it too. 
As the primary feud between Hillary Clinton and Bernie Sanders reaches a fever pitch, these Hollywood stars are hoping to swing your vote in favor of Bernie. 
In a video uploaded to YouTube by Sanders-aligned user We're Feeling It, Miley Cyrus, Susan Sarandon, Justin Long, Alan Cumming and other celebrities say why they're #FeelingTheBern. 
Read more: Bernie Supporter Susan Sarandon Said Trump Might Be What America Needs
"He has been a badass in supporting the LGBT community," Cyrus says into the camera.
"It's about the catastrophic effects that climate change is already having on our planet," Long adds.
"About everyone's right to health care and education," Cumming says in his characteristic Scottish brogue.
The full list of celebs, according to the video description, who speak out in favor of Sanders include: Justin Bartha, Harry Belafonte, Alan Cumming, Miley Cyrus, Rosario Dawson, Eliza Dushku, Josh Fox, Gaby Hoffmann, Damian Kulash, Zoë Kravitz, Sean Lennon, Justin Long, Graham Nash, Amanda Palmer, Connor Paolo, Charlotte Ronson, Shaun Ross, Mark Ruffalo, Kendrick Sampson, Susan Sarandon, Michael Stipe, Kristen Wiig and Shailene Woodley.
Watch the full video here: