Anna Kendrick and Zac Efron Made a Tired Teen Mom Joke at the MTV Movie Awards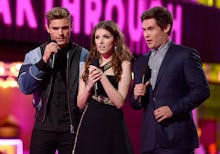 It's official: We've jumped in a time machine and gone back to 2010. Flared jeans are making a comeback. Sammi and Ronnie from Jersey Shore are back together (and still making headlines). And apparently, it's considered the apex of topical humor to joke about teen mothers. 
That became painstakingly clear on Sunday night during the broadcast of the MTV Movie Awards, when Adam DeVine, Zac Efron and Anna Kendrick presented the award for Best Breakthrough Performance. The three actors, who are co-starring in the upcoming film Mike and Dave Need Wedding Dates, performed a bit during their presentation that skewered teen pregnancy, an ostensible nod to MTV series like 16 and Pregnant and the Teen Mom franchise. 
The bit started with Kendrick saying that, in honor of their upcoming film, she had been tasked with finding Efron and DeVine dates to the awards show. "I picked four potential dates for these guys, and I'm going to let you, the audience, pick the two winners," Kendrick said. "Let's bring out our lucky girls! Where they at? Where they at?"
A quartet of women dressed as pregnant teens, including a woman in a maternity prison jumpsuit and a woman in a do-rag and baggy pants, strutted onstage. 
"These are not the girls I picked for the MTV date contest," Kendrick said.
"No, ma'am," one of the girls responded. "We're here to audition for 16 and Pregnant." 
After DeVine and Efron expressed their obvious distaste, the women strutted offstage, leaving Kendrick, Efron and DeVine to introduce the award for Best Breakthrough Performance. 
It was a small moment, but one that decidedly fell flat, in large part because of how stale the joke feels. Considering that both 16 and Pregnant and Teen Mom first aired in 2009, an awards show punchline at the expense of pregnant teens is at least five years past its expiration date (particularly when the joke is made on the very network that produced those shows in the first place). 
The irrelevancy of the joke aside, however, teen pregnancy remains a real issue. Although America's teen pregnancy rate is steadily on the decline, it's still much higher than that of other industrialized countries like Canada and the United Kingdom, in large part thanks to abstinence-only sex education. Furthermore, teen pregnancy rates are highest among low-income black and Hispanic women, due to a lack of resources in these communities — a sad reality that was not addressed by the Movie Awards bit.
For all its flaws, shows like Teen Mom and 16 and Pregnant attempt to capture the experience of teen motherhood openly and honestly, without reducing its subjects to caricature or depicting them as jailbirds or trailer trash. (It appears to have done so successfully, too: A 2014 study attributed the sharp decrease in U.S. teen pregnancy rates to shows like Teen Mom.) 
The MTV Movie Awards joke not only undid all that goodwill by reducing teen motherhood to a mere punchline; it also made itself look lazy, stupid and culturally irrelevant in the process.