Ariana Grande Claps Back at Troll Who Called Her a "Whore" for "Dangerous Woman" Video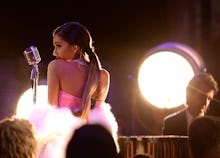 Ariana Grande is an unapologetically dangerous woman, and she isn't afraid to remind you of that. The singer is once again taking a stand against trolls on social media, this time clapping back at a "fan" who had a problem with her "Dangerous Woman" video. 
Typos aside, Jonathan Alexis Munoz had it coming when he commented on one of Grande's photos teasing her "Dangerous Woman" Visual 1 music video on Facebook, writing, "Ariana all respect, but dangerous woman I loved but the trouble is that in [the music video] salts like a whore!" 
Although Munoz couched his sexism with "sorry for the rudeness," Grande was having none of it. "When will people stop being offended by women showing skin / expressing sexuality?" Grande questioned. "Men take their shirts off / express their sexuality on stage, in videos, on Instagram, anywhere they want to... all. the. time. The double standard is so boring and exhausting. With all due respect, I think it's time you get your head out of your ass."
"Woman can love their bodies too." Grande concluded.
"Dangerous Woman," the title track and most recent single from her forthcoming third album, which is set to be released in May. 
As Grande continues to break the molds that confine her, rising from a former child actress into a pop queen (with a knack for impressions of iconic divas), she isn't staying silent about the obstacles in her way. A few months back, the 22-year-old posted a GIF on Instagram of herself waving goodbye while raising a tinted car window, captioned "me @ body shaming / slut shaming & other misogynistic / negative comments."
Grande's "Dangerous Woman" music video was released via her YouTube Vevo page on March 30 and currently has over 28 million views. Check it out below: 
Read more: Justin Bieber Is Applauded for Flaunting "Dat Ass" — But What About Kim Kardashian West?