You Can Buy Swarovski Crystal Crocs for Your Wedding Because Why Not?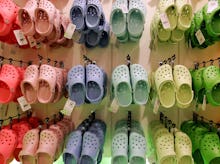 Looking for a chill but classy way to celebrate your wedding? Angela Reese Studio, an embroidery boutique for women and children's clothing, offers a "Swarovski Crystal White Croc Bridal Clog Wedding Shoe" for those getting ready to celebrate one of the biggest moments in a person's life. 
Available on Etsy, a website for selling homemade items, the shoes are white Crocs embedded with Swarovski crystals for $81.99. That's right, Crocs for $81.99. The classic Croc costs significantly less.
"If you are looking for a comfortable yet gorgeous wedding shoe, then check out these stunning classic clogs. They are made with official white Crocs (no imitation brands) and genuine Swarovski crystals," the listing read. "These could also be used as a gift for your bridal party to wear for the reception when dancing is way more fun if you're not wearing heels."
This wouldn't be the first time someone at a wedding decided to get too comfy. In December, Canadian beach volleyball player Chaim Schalk and his groomsmen wore clothing from the athletic sportswear company Lululemon to his wedding. 
"My bride, Lane, was a bit nervous at first, but once I did a fashion show, she couldn't believe how great it all looked!" the volleyball star said. "There were a lot of perks to wearing Lululemon in the wedding, mainly that it was the most comfortable wedding ever. We felt amazing and looked fantastic, and obviously our dance moves were top-notch given the freedom of movement the technical gear provides." 
The shoes are available in a variety of colors, including raspberry, royal blue, greenish-yellow, khaki or navy. 
Read more: There's Still a Double Standard When It Comes to Marriage Proposals — But Why?