Match.com Says There's Still Hope for Redheads With Freckles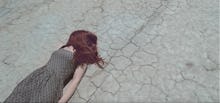 Don't be ashamed of your red hair and freckles — somewhere out there, there's someone who just might love you for them. 
At least, that's the backhanded promise of a Match.com ad campaign currently plastered throughout London. 
"If you don't like your imperfections, someone else will," one poster reads, the message superimposed over an image of a redheaded woman with a healthy sprinkling of "imperfections" across her face.
Read more: 19 Stunning Photos From The World's Biggest Gathering of Redheads
"This is the first time [Match.com's] focused on physical appearance in this campaign, and it's really disappointing that this kind of thing is still acceptable," Emma Kelly, an editor for "redheads and ginger-lovers'" website the Ginger Parrot, told the Guardian. 
Entitled #LoveYourImperfections, the campaign is meant to encourage Match users to embrace the singularities they think of as their personal flaws, which "often make the difference" in dating, but also "make us who we are." 
In the past, these flaws have been innocuous things, like forgetfulness. But with this new campaign, down-and-out singles everywhere can be uplifted by the concept that one could in fact hook their perfect match thanks to, and not despite, their "imperfections."
The phrasing has a "one man's trash is another man's treasure" subtext, which, for those people previously unaware that their freckles could be considered "trash," could come as a blow.
The United Kingdom's Advertising Standards Authority told the Guardian that it has fielded about "half a dozen" complaints about the ads thus far, which they're "carefully assessing" in order to determine whether or not to take action. 
Naturally, Twitter users also have a few things to say about these ads.
One clever individual "fixed" a poster by slapping on sticky notes that read, "Sorry, but isn't judging people on skin pigmentation universally regarded as a dickish move?" 
But skin tone is not the only thing grinding gears here.
Unusual eye coloration also gets a nod in these ads. One poster features a person with one blue and one brown eye, captioned with the same tagline. In the process of telling people its our individual differences that make us interesting, attractive, essentially us, they spread a sense of shame.
Apparently, though, they didn't mean to. "We believe freckles are beautiful," according to an emailed statement from Match.com. "The intention of our 'Love Your Imperfections' campaign is to focus on the quirks and idiosyncrasies that people wrongly perceive to be imperfections."
"Our overall campaign is all about celebrating perceived and behavioural imperfections, from having freckles to being chubby, messy or clumsy," the statement continued. "The adverts are designed to encourage everyone to be proud of their individuality, as the features that make us unique are often the ones that make us most attractive."
The company added that it was "sorry if this ad has been interpreted in a different way"; that it was "in discussions with its relevant partners" about taking them down post haste. 
Because really, don't gingers get enough grief already?
April 12, 2016, 9:00 a.m.: This article has been updated to include language from an emailed statement sent to Mic by Match.com.