Donald Trump's Kids Will Not Be Voting for Him in the New York Primary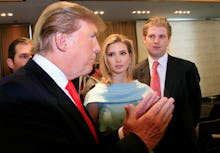 Though Republican frontrunner Donald Trump has sweeping support across New York state ahead of its primary, two critical Trump supporters won't be be making their voices heard come April 19: his children.
In a Monday morning interview on Fox and Friends, the real-estate mogul incorrectly stated New Yorkers must register to vote in the primaries a year in advance, hence why his two kids Eric and Ivanka Trump forgot and won't be participating.
"They had a long time [to] register and they were, you know, unaware of the rules, and they didn't register in time," Trump told the Fox anchors when asked about the gaffe. "They feel very, very guilty. They feel very guilty, but it's fine. I mean, I understand that, I think they have to register a year in advance, and they didn't."
Read more: New Report Shows Millennial and Minority Voters Face Huge Obstacles at the Polls
"Are you cutting of their allowance?" host Steve Doocy asked.
"Yes. No more allowance," Papa Trump said.
But it turns out it's not just his kids who are foggy on the rules — Trump isn't clear on them either. In fact, in order to participate in the New York primaries, residents must have lived in the state for at least 30 days, and the New York City Board of Elections must have received any new or updated registration forms at least 25 days prior to the primary.
The delegate-rich state employs a closed primary system, which means voters who don't identify with a party are unable to participate, and crossing party lines is not allowed, either. For the three million New Yorkers — just over a quarter of the state's population — registered without a party affiliation, voting in the New York primaries is not an option, Think Progress reported.
The state also has an October deadline for those wishing to switch parties ahead of the primaries in order to support a candidate of their choice, which will prevent some from being able to cast their ballot come April 19.
Social media users still lambasted Trump's children for their apparent forgetfulness, with Huffington Post editor Mike Signorile writing, "He's 32, she's 34, and they never even thought about registering until dad on ballot? So civic-minded."
Others shared similar sentiments:
The Trump kids are still campaigning in good faith for their father, with the billionaire's daughter introducing him to a roaring New York crowd on Wednesday morning, and praising her father for "his vision, his passion, his work ethic."
All great-sounding qualities, to be sure.
But she still isn't voting for him.