The Churro Ice Cream Cone Is the Food Mash-Up You've Been Dreaming Of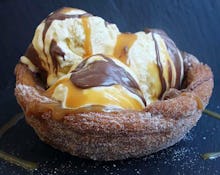 Sugar, spice and everything nice just got a whole lot nicer.
That's because there's a new food hybrid in town, and if it doesn't freeze your brain, it's going to blow your mind. 
Four words, one sugar coma: churro ice cream bowl. 
That's right: Sweet, fried, cinnamon-sugar dough, shaped into a bowl, ready to cradle your choice of ice cream and be topped with caramel sauce or hot fudge — or whatever floats your boat, really.
Read More: Cheese Lovers Will Drool Over These 12 Super Melty, Delectably Cheesy Dishes
This devious creation seems to be making the rounds on the interwebs lately, according to a post from Milky Lane, an Australian restaurant that promised its clientele on Sunday that churro ice cream bowls were about to make an appearance on their menu.
"Due to the extremely viral nature of this image from overseas, we are going to make CHURRO BOWLS this week at Milky Lane," Milky Lane posted on Facebook. "If they work and we are happy with the end product, they might make their way onto our final menu."
The churro bowl seems to be a slowly spreading phenomenon, so hopefully it will be making its way to an ice cream place near you sometime in the near future. If not, try going into the streets and shouting, "We want churro bowls," until one materializes in front of you. Or try making it at home or something.